As reported first by Buzzfeed, Marvel Television is developing a feature-length animated film about a new and diverse generation of heroes.
Marvel Rising: Secret Warriors, set to launch in 2018, will be the first of a multi-platform animated franchise shedding light on the younger generation of heroes who have made names for themselves in the pages of the All New, All Different Marvel Universe. The franchise will begin with 6 four-minute digital shorts all leading to the culmination of the new film.
"This feature film is an evolution of all of the great characters that people have come to love," Sana Amanat, Marvel's Director of Content and Character Development, said when speaking with BuzzFeed News. It came out of a desire to be able to tell stories about characters that we think are the next great heroes of the Marvel Universe," Amanat continued."I think it's incredibly important that we tell young women and young girls that they have this incredible power within themselves, and that they have heroes out there who they can look up to, especially in these times."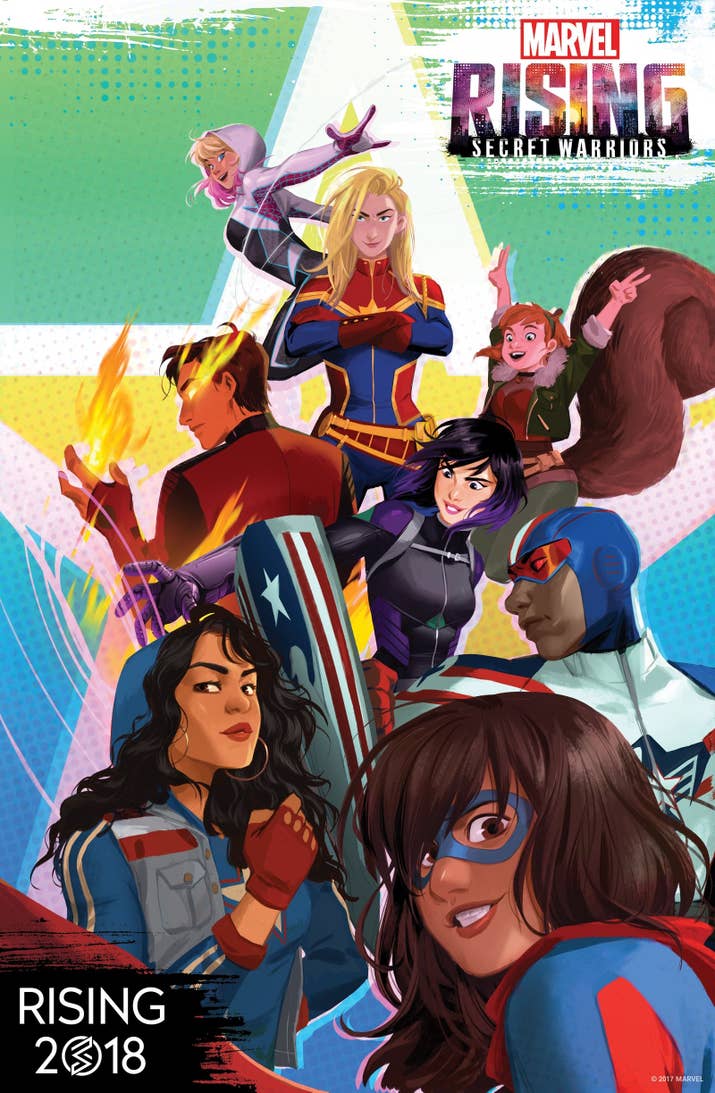 The film will star Kathreen Khavari who will return to the role of Kamala Khan AKA Ms. Marvel who she has previously voiced the role in Disney XD's 'Avengers: Secret Warriors.' Cierra Ramirez ('The Fosters') will lend her voice to play America Chavez AKA Miss America, Marvel's first Latino-American LGBT character.
This slideshow requires JavaScript.
Milana Vayntrub, who is playing Squirrel Girl in the upcoming 'Marvel New Warriors,' will voice the character. "I feel like a lot women will feel represented and impassioned by this badass young woman who wants to make the world a better place," Vayntrub said.
Additionally, 'Agents of S.H.I.E.L.D.' star Chloe Bennett will reprise her role Daisy Johnson AKA Quake.
This slideshow requires JavaScript.
Dove Cameron (Descendants) will voice Spider-Gwen, who is now known as Ghost-Spider and Tyler Posey ('Teen Wolf') will voice the popular Inhuman character Inferno.
This slideshow requires JavaScript.
Kamil McFadden (Grown Ups 2) will be voicing Patriot, a young hero who strives to uphold the legacy of Captain America. Kim Raver ('Greys Anatomy') will be voicing the team leader, Captain Marvel. 
This slideshow requires JavaScript.
Booboo Stewart (X-Men: Days of Future Past) will be voicing Exile, a troublesome and charming Inhuman while Dee Bradley Baker ('Gravity Falls') will be voicing the squirrel sidekick of Squirrel Girl Tippy Toe as well as the giant Inhuman canine Lockjaw.
This slideshow requires JavaScript.
Rounding out the cast will be 'Agents of S.H.I.E.L.D.' star Ming-Na Wen, who famously voiced the titular character in Mulan, will be voicing the big bad of the movie Hela.
Marvel Rising: Secret Warriors will premiere in 2018. Stick with @Superbromovies for more information regarding this developing story!
Check out the trailer below!
Source: Buzzfeed