Funko POPS have become a worldwide cultural phenomenon. Collectors, die-hard fans, casual moviegoers, and everyone in-between can be found clamoring for the latest and greatest addition to their collection. With every major Hollywood blockbuster release, Funko is there with new POPS for fans to search for and bring him in celebration.
And, beginning on 3/3/18 and leading up to the release of Avengers: Infinity War, one of the biggest cinematic events in history, the line-up for Funko POPS will be released and promise to be just as memorable!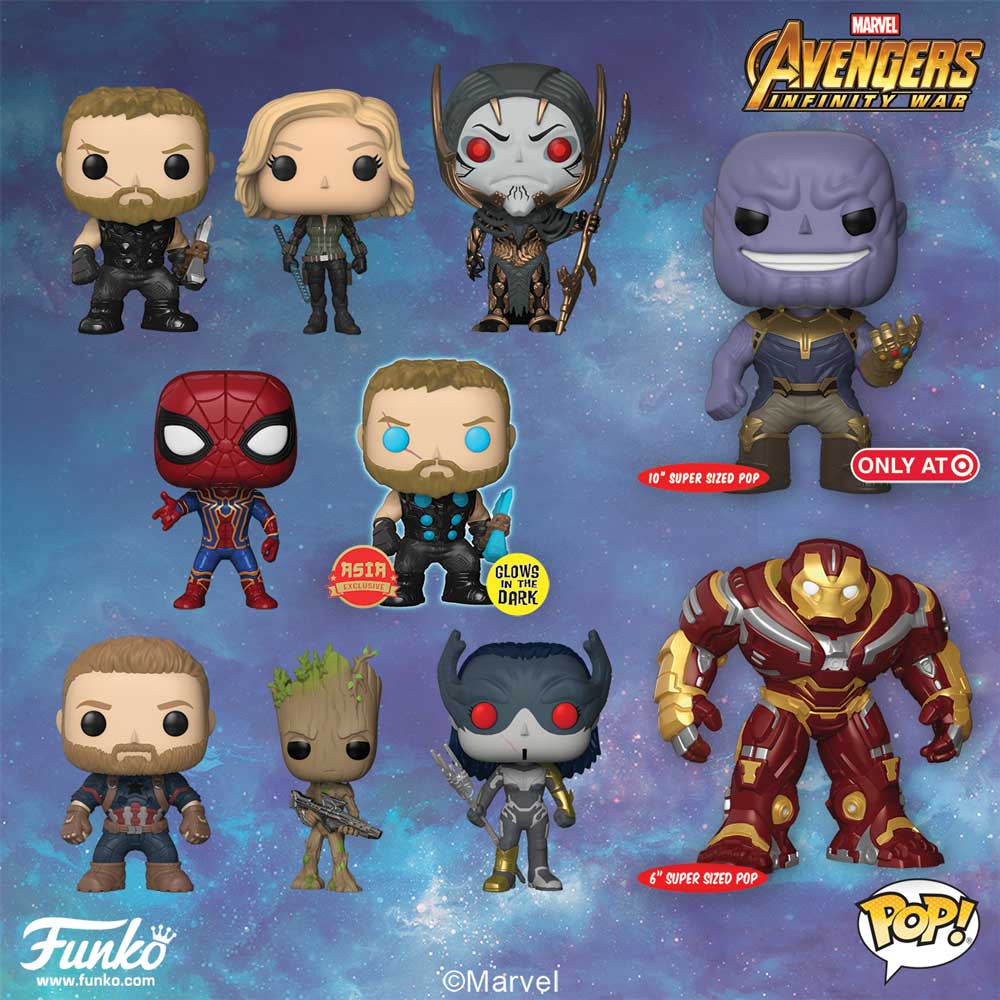 From bearded Cap to teenage Groot, these vinyl's and bobble heads are sure to become an instant hot commodity for fans of all ages.
A few highlights from this list is of course the 10-inch Thanos figure (exclusive to Target stores) which is sure to tower and loom over collections for years to come.
The unmasked Iron Spider (exclusively available at BoxLunch) is another gem of this group as it teases Peter Parker's unmasking during the events of the film.
Check out the slideshow below which will tell you where to find all the POPS that are being sold exclusively by certain retailers.
This slideshow requires JavaScript.
Other than the popular POP vinyls and bobble-heads, Funko is also releasing a bevy of other merchandise guaranteed to flood the market and be at the top of every fan's wish-list over the next few months. Including:
DORBZ
POPS Keychains
Hero Plushies
AND Mystery Minis!
What do you think? Which of these highly anticipated and sought after collectibles will you be adding to your collection? Let us know @superbromovies and in the comments below.
Most items will be available March 3rd, 2018!
Source: Funko
Avengers: Infinity War will dominate theaters beginning on May 4, 2018.
An unprecedented cinematic journey ten years in the making and spanning the entire Marvel Cinematic Universe, Marvel Studios' Avengers: Infinity War brings to the screen the ultimate, deadliest showdown of all time. The Avengers and their super hero allies must willing to sacrifice it all in an attempt to defeat the power of Thanos before his blitz of devastation and ruin puts an end to the universe.