The wait is almost over for the first Aquaman trailer, in the meanwhile, you can check out brand new details and an image for the film now.
Thanks to Entertainment Weekly, a new image has landed online revealing a new character being added to the Aquaman mythos. Played by Djimon Hounsou, who was recently cast as the Wizard in Shazam!, Fisherman King leads one of the seven kingdoms of Atlantis in the film. Check it out: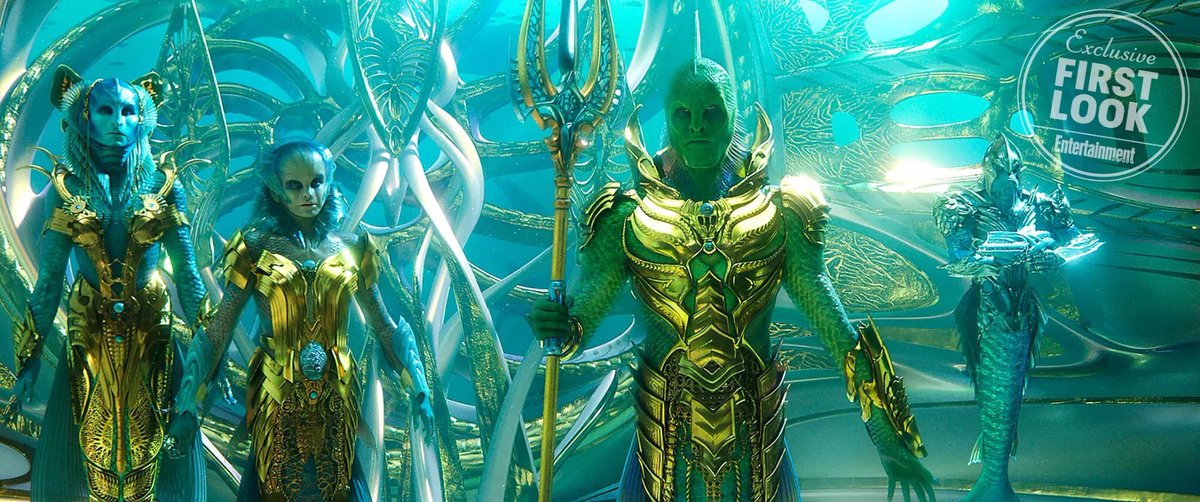 Also included in the image are the Fisherman Queen (Natalia Safran) and Princess (Sophia Forrest), to the left of the King. The scene has King Orm go to Fisherman King for help in waging war on the surface world. Aquaman producer Peter Safran spills the beans on the new kingdom.
  "After the fall of Atlantis, some of the kingdoms evolved and some devolved, This is one that evolved. This is a kingdom that's primarily artistic and cerebral, with poets and philosophers."
As you can probably tell, a lot of make-up and prosthetics are being used to bring to life these Atlantean creatures. If they hadn't mentioned the actors filling the roles we probably wouldn't notice who these characters are being played by. This is why WB/DC cast Djimon in another role in the DCEU without worrying about any possible confusion from the audience.
From the detail to the effects, James Wan has cooked up something epic and I can't wait to see what SDCC has in store for the film.
What do you guys think? Let us know by tweeting us at SuperBroMovies. – Marcos Melendez
Source: EW
Aquaman is currently set to hit theaters December 21, 2018.