It seems a certain Atlantean might have helped save DC movies.
The highly anticipated installment in the DC Cinematic Universe is set to flood theaters this December 21st and it is definitely a must see. Horror film director James Wan (The Conjuring, Saw) branched out of his signature genre in the biggest way possible and does not disappoint. Jason Momoa and Amber Heard are total standouts and their onscreen chemistry flourished into some of the most entertaining dialogue in DC films. And of course, the visuals are absolutely stunning, enthralling the audience for the ultimate cinematic experience. But, it was impossible to ignore the aching residuals of typical DC movie cringe moments.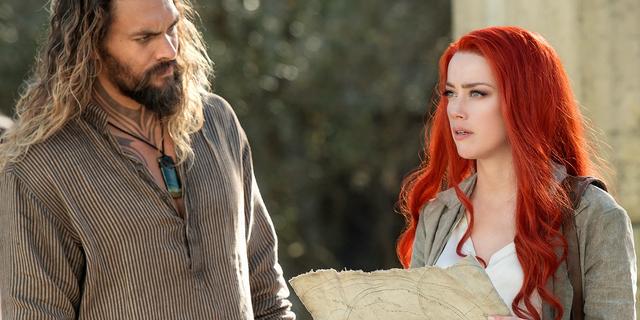 If we're going to get to picking apart the elements, my biggest complaint is the music choice and timing throughout the movie. It almost seemed like DC was trying to push their underwhelming soundtrack into some of the scenes and it felt quite "cash-grabby" and just took away from moments that could've easily been focused on the main characters. The score, however, is actually quite good and lends to the large-scale underwater scenes. Unfortunately, this score could've been used to its fullest potential by maintaining it throughout the movie and ignoring the pop-crazy soundtrack. We definitely did not need Pitbull yelling at us whilst Aquaman emerged from the ocean. It was quite unsettling so be warned if you're going to see it in a premium format theater.
From beginning to end, Wan's vision was incredibly strong throughout every scene, with a special attention to detail that leads to some incredible action sequences that leave you dropping your jaw. As soon as I realized how realistic the underwater scenes rather than just thinking "Oh of course, they're just underwater. They just can do that." (it was that immersive), my appreciation for the CGI sky-rocketed. The trailers did show a lot of the big moments, but their grandeur cannot be fully appreciated until you get to the theater. If you're thinking of seeing a movie in a premium format, this is absolutely the one to see this holiday season.
The story was the classic adventure quest for a warrior to become a king, but it was done in such a fun refreshing manner that you don't think about predicting what's going to happen next. Rather, the movie envelops you in a large scale adventure that is fast-paced and gives big "Atlantis: The Lost Empire" meets Percy Jackson vibes, which somehow made me feel nostalgic whilst watching Arthur Curry go from sea vigilante to king of an underwater civilization. Aquaman also expands the DC Universe on earth exponentially, exploring new underwater worlds that could come up again in future movies. The combination of mythology and comic book origins was a wonderful balance that created a very fun story that kept you on the edge of your seat for the whole movie. For its two hour and twenty-minute runtime, the pacing is quite fast and manages to fit a lot of stories. However, it does get a bit too fast at times and feels like narrative whiplash when it transitions between acts. This doesn't stop the audience from their enjoyment of the movie, but it can be overwhelming.
Overall, the movie is the most fun of all the DC films with good comedy, beautiful action, and a classic adventure storyline. My highest compliments to James Wan and the fantastic cast that gave 110% to their roles! The movie received multiple applauses from the crowd and is definitely set to be a front-runner on the holiday movie slate this month.
My rating? A crisp 8/10.
Have you seen Aquaman yet? What do you think about it? How do you rank it amongst other DC movies? Keep up with all things movies this season with us over on @SuperBroMovies!
Aquaman is set to arrive in theaters everywhere this December 21st!
Once home to the most advanced civilization on Earth, the city of Atlantis is now an underwater kingdom ruled by the power-hungry King Orm. With a vast army at his disposal, Orm plans to conquer the remaining oceanic people — and then the surface world. Standing in his way is Aquaman, Orm's half-human, half-Atlantean brother and true heir to the throne. With help from royal counselor Vulko, Aquaman must retrieve the legendary Trident of Atlan and embrace his destiny as protector of the deep.